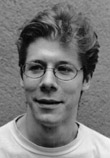 Tobias Klaus Giesen
Tobias Giesen (b. 26.12.1970) was born in Rheine, Germany. As a scholarship holder of the German national Studienstiftung, he spent two years studying mathematics and computer science. In 1993, he switched to musical studies and moved to Würzburg, where he studied musical composition with Prof. Heinz Winbeck. After receiving his diploma in 1999, he continued his studies and received the Meisterklassendiplom in 2001.
Giesens works have been played by renowned European comtemporary music specialists, among them Siegfried Palm (Cello), Ensemble Köln, Ensemble 2e2m (Paris), Janus-Ensemble (Vienna), and Ensemble Slavko Osterc (Ljubljana, Slovenia). Many pieces for diverse instrumentatal combinations have been created for the new music ensemble of the Würzburg school of music. His largest orchestral work thus far was performed 2001 in the Kleve gardens by Sinfonietta Basel plus soloists.
His catalogue of works comprises pieces for solo instruments, chamber music, computer music, and pieces for a variety of larger ensembles, including two orchestral works. Quite a few of his works have won prizes in international competitions, including
1997

Erster Preis beim Kompositionswettbewerb "Ensemblia" der Stadt Mönchengladbach
mit dem "Kammerkonzert" (UA durch ensemble 2e2m, Paris)
Sonderpreis des Salzburger Mozartwettbewerbes mit "Belsazar ..." für Klavier allein


1998

Gustav-Mahler-Kompositionspreis der Stadt Klagenfurt mit "HIOB II" für Violoncello und Ensemble (UA mit Siegfried Palm, Cello)


2000

Erster Preis beim Wettbewerb "Musik in europäischen Gärten" Kleve 2000 mit
"... und glühte für mich." für Solo-Kontrabass, Fernmusiker, Zuspiel-CD und Orchester
(UA mit Nabil Shehata, Kb., und der Basel Sinfonietta unter Leitung von Jürg Wyttenbach)


2001

Erster Preis beim Kompositionswettbewerb des ORB (Ostdeutscher Rundfunk
Brandenburg) mit Denn die Zeit ist nahe für Sopran und Streichquartett
Next to composing, Tobias Giesen was a lecturer in the field of music notation software at the Würzburg Musikhochschule (school of music), and has been developing the TGTools Plug-In Collection for Finale since 1999. Today, he lives in Brühl near Cologne, Germany.
: